Indoor & Outdoor Pot Lights Installation
Pot lighting is becoming very popular in the new house construction and home remodeling businesses. These lights are installed mostly flush to the ceiling and make for a more modern, fresh look. They have a directional light bulb that will save a homeowner money because the bulb is low-heat, low-energy yet high efficiency and will outlast many of the 'green' light bulbs on the market.
There are many benefits to having pot lights installed in a basement, kitchen or bathroom of an existing or new home. They are energy efficient, safe, and affordable and will help to increase the homeowner's resale value of the home if they decide to sell.
Our company offers professional pot light installation for residential homes and businesses. Homes often gain more lighting in dark rooms such as the basement or bathrooms from professionally installed pot lights. We know where to place them and how to install them so as not to harm the structure or integrity of the building.
A business could benefit from pot lighting because it helps to alleviate eye strain on computers and other work areas for employees. A business or shopping area will also become brighter and more inviting to customers with pot light designs.
Pot lights could be installed in several different configurations in order to bring the most lighting into a room. One of the main lighting patterns used to bring more light into the center of a room, where more people tend to gather, is to place the pot lights around the outer part of the room on the ceiling. The U-shaped lights have a directional bulb and they cast a light up to 9-feet from a triangular perspective with the point of the triangle beginning at the bulb and the widest part of the light or triangle at the bottom of the spray of light. A home or a business could showcase a collection or piece of artwork with pot lights directed at the painting or print.
We install high quality pot light products that are 3-6 inch in diameter. We also install all types of dimmers for mood lighting in any room in the house. Our professional, licensed Master Electricians will install the pot lights under the ESA requirements so there is no damage to a homeowner's ceilings, wall or anywhere else in the home.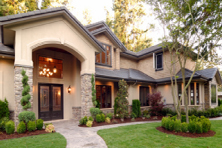 Outdoor Pot Lights Installation
Many homes and businesses are having pot lights installed on the outside of their buildings for more security around windows and doors.
In addition, the pot lights beautify the home and add value to the resale price.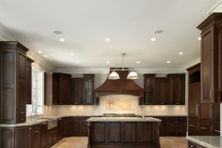 Main Floor Pot Lights Installation
On the main floor of a home, people are having pot lights installed in order to bring more bright light into the house.
They are also highlighting collections, artwork and home theaters or stereo systems with dimmers for mood lighting.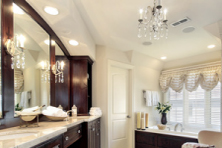 Second Floor Pot Lights Installation
Pot lights could be installed in bedrooms, bathrooms, kitchens and all-purpose rooms or children's rooms.
Our professional staff will help a homeowner decide which room would benefit the most from pot light installations for light and decorating purposes.